Today is Fat Tuesday. Unlike regular Tuesdays, on Fat Tuesday you get to eat more because you have to give up regular food for the next 40 days. Fortunately this only applies to humans. Us bassets don't do well with self-denial. But in honor of Fat Tuesday, I wanted to pick a hound for our latest Rescue Me posting that had to do with Mardi Gras, which is a celebration of Fat Tuesday and the 40-days thing. It is a celebration where girls show off their lady parts to get beads. Somehow this is all related to the Fat Tuesday thing again. Maybe the girls are giving up their clothes? Who knows. People don't make sense sometimes, but we keep them around because they can drive and get us food.
So anyway. Our latest Rescue Me hound is named Daisy. She is a senior hound in Louisiana, and is being fostered by the good folks at
Looziana Basset Rescue
. Not to be confused with the evil Nibbler, who also comes from Louisiana, Daisy is a good basset hound. To check out her page you should
click here
. Daisy is an older hound much like our new brother Beauregard. At first I was not too crazy about this arrangement but after having him here for awhile we are getting used to Beau. We haven't quite got around to snuggling with him yet though. But Ms. Daisy sure looks like a happy hound... she has quite a smile on her face.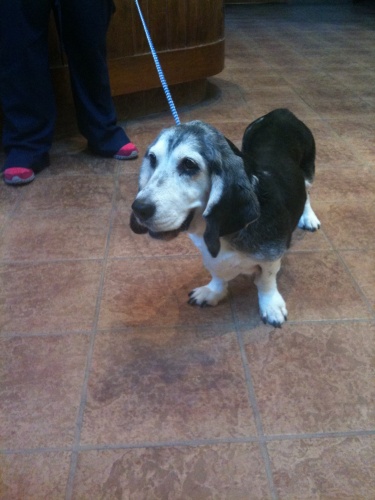 Probably just saw a topless person
Oh what the heck I will get in on the action too, it is only Fat Tuesday once a year. Happy Fat Tuesday, promiscuous ladies!
Where are my beads?