This week's famous hound is a clever old gal named Doris. Doris comes from the TV show
The Middle
, where she is owned by 2 old ladies who smoked a lot. This led to Doris' needing to use an oxygen mask and be pulled around in a wagon all the time.
The oxygen mask part sounds kind of annoying but the wagon part might not be so bad. Just put a bed in it and it might actually be kind of nice, not having to wear yourself out walking all over the place. There were some hounds at the
GABR waddle
we went to last year that did this, but mom and dad made us walk the whole way. It wasn't so bad though, there were lots of kids with water and treats and they would pet us as we waddled, so I can't complain.
Besides, Doris actually makes the best of her wagon by teaching her boy how to fetch.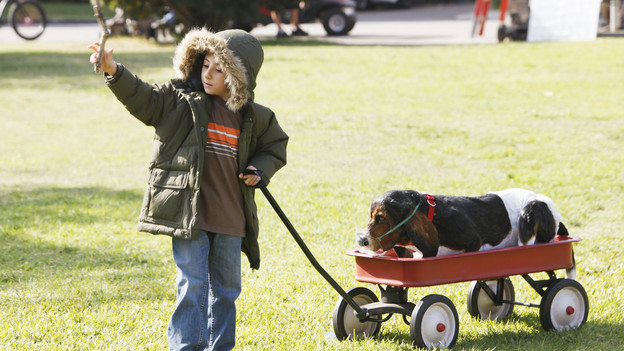 Her boy doesn't do a good job watching her though; she ends up being left outside and somehow she becomes pregnant and has puppies at the end. How that works with her being in the wagon I'm not sure
; like I said in an earlier post
, dad won't let me try some of the mounting stuff with Breezy.
Anyway, Doris is our famous basset hound for the week!