First of all, I would like to say that it is raining here. It's about time! We've been living in an oven for the last month!
Second of all, I would like to take this opportunity to write my latest blog entry for Famous Basset Hound Friday! Dad and I had a long discussion about this one, and he wanted me to make sure and write this entry tastefully. He thinks it has a good chance of being a little too racy for our normal viewers.
Pshaw!
Our famous hound this week is one of the luckiest hounds of all time. He was owned by none other than Marilyn Monroe, who is second only in attractiveness to my own personal favorite actress, Kirsten Dunst! His name was Hugo.
Lucky hound
Marilyn Monroe and Arthur Miller were the two humans lucky enough to have Hugo in their lives. I can't find much info about Hugo, but I am sure he had no small part in Marilyn's success (we hounds are known for our
acting agent abilities
). As we all know Marilyn Monroe is famous for that one picture where she walked over a grate and had her dress blown up around her ears.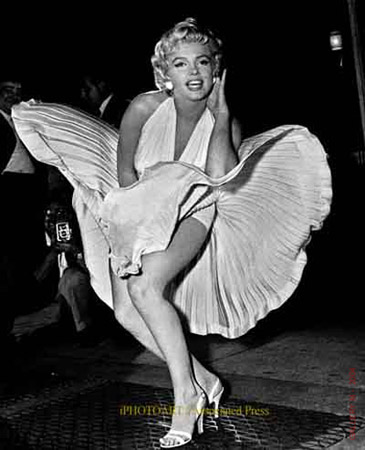 You know, this one.
Well I think she may have had a little inspiration for this scene thanks to Hugo...
This kind of evidence is irrefutable